Safe Products & Services
Never be locked out of your safe or vault, we have a Certified Master Safe technician and notary on staff during business hours and emergency service available after hours. The first step to getting the right safe is knowing what type of safe you need. We offer new and used safes including Fire, Burglary, Data/Media, Depository, In-Floor, Wall, Gun/Pistol, and commercial high security TL15/TL30 safes. Our safe techs can assist you with selecting the proper safe for your home or business needs.
Safe Sales
Safe & Vault Opening
Safe & Vault Repair
Safe Deposit Opening & Repair
Safe Deposit Keys Cut
GSA Containers Opening & Repair
Antique Safe Repair
Combos Changed
Converting Manual Dial Safe to Electronic Push Button Dial Safe

Gardall Microwave Safes (1-hour fire)
STANDARD FEATURES
Programmable electronic lock with over-ride
One-hour fire safe label
Individual packaging for UPS type shipping
Two compact sizes
Powder coated paint for increased durability
Center bolt down ( hardware included )
Pull-out shelf for storage
Dual security key and combination (mechanical only)
Gardall warranty for all products
Model Outside Dimensions
H W D Inside Dimensions
H W D Approx. Wt. (lbs.) Description Retail Price

Gardall Two-Hour Fire Safes
STANDARD FEATURES
Thick 41/4" door with recessed anti-pry design. Safe walls are 21/2" thick
Five active bolts that lock in 3 directions, massive 1" diameter round bolts that extend deep into safes body (Models 1812-3018)
Center bolt down hole with hardware included for easy installation (hardware included)
Plush carpeted quality interior to protect jewelry and valuables (Models 1812-3018)
UL listed Group II high security lock, mechanical or electronic available
UL 2-hour fire label, furnace-tested to 1850°F for 2 hours. Interior temperature of safe was less than 350°F during the test and cool down
Media Cooler (insert) will fit inside model 1612/2 and larger
Solid chrome-plated handle with shear point to prevent the safe from being forced open by handle attack
Independent re-locker and hardplate to prevent drilling attack on locking mechanism
Lifetime Replacement Guarantee (fire damage only [see inside front cover])
Doors are removable Options
(additional charges apply) 
Key locking dial, Gold trim with rich color exteriors (Black, burgundy, hunter green), Standard colors: Sandstone or gray.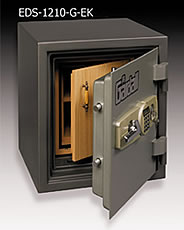 Gardall Data and Media Safes
With the growing number of homes and offices using computers, the protection of magnetic media has become critical. The loss of personal as well as business records can be costly and devastating. The average fire safe is not suited to protect your electronic records. Gardall's media safes are designed to meet the additional requirements of protecting magnetic media. For your convenience we offer two sizes to choose from. Features such as Push button electronic lock with key day lock, 3 way bolt work with bolt detent, Push button electronic lock – 6-digit combo.
Protect Your Electronic Media
Office Computer Back-Ups
Home Computer Back-Ups
Digital Pictures
Music CDs
DVDs
Video Tapes
One-hour fire protection for media products
No center bolt-down hole
Fire rating- 1832°F outside, 125°F interior
Uses 2 AA batteries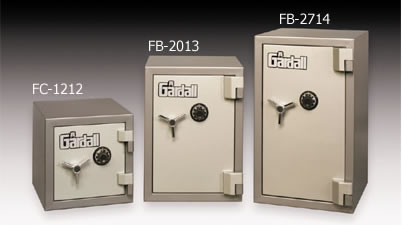 Gardall Fire/Burglary Safes
STANDARD FEATURES
Heavy duty construction 2" thick door, 3" thick body
Composite construction door & body
Independent glass re-locking systemFB-1212
3 spoke chrome-plated vault handle
1 hour U.L. 350° fire label
U.L. RSC Burglary Label
Center bolt down for ease of installation (hardware included)
11/4" chrome plated locking bolts
Attractive two tone paint for increased durability
U.L. Group II combination (S&G) lock standard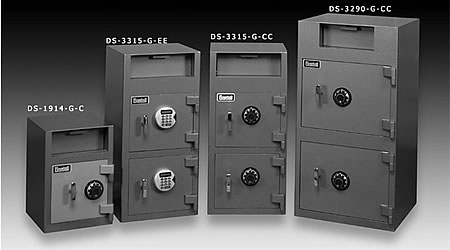 Gardall Depository Safes
Single Door
Comes with a "B" rated solid ½" thick steel door 1/4" body, 3 way locking bolts, Anchoring holes for ease of installation, Anti fish baffles, Electronic welding for strength, UL Group II combination lock (S&G) Powder coated paint for durability
Double Door
Comes with a Solid steel locking bar to prevent door removal, Front load style for added security and ease of deposits, Electronic welding for strength and durability, Powder coated paint for durability.
Standard Features
½" plate steel door
1/4" thick body
External re-locker
Anti fish sawtooth baffle
Excellent for mounting in delivery vehicles
Mounting holes pre-drilled
Available in 3 sizes
Laser cut door for exact fit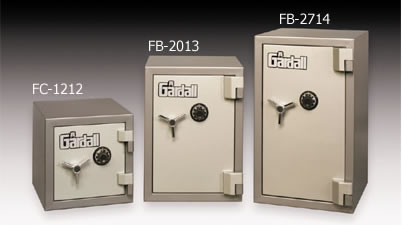 Gardall Light Duty Depository

Gardall In-Floor Safes
Commercial In-Floor Safes
Comes with "B" rate burglary construction. 3 active 1" bolts.
Safe Options
Standard color: Gray, Pyramid Shape Body for Solid Anchoring in Floo, All specifications are subject to change without notice.
Standard Features
Group II U.L. listed combination or electronic push-button locks.
Hard plate between the lock and dial ring.
Full length locking bar hinge side of door.
Independent relocking device to deter forced entry.
Door frame is reinforced on bolt side.
Coil spring assist on all doors for ease of opening and closing.
Dust cover included.

Gardall Wall Safes
Wall safes have a 1" flange for easier installation. Designed to be recessed into a wall and concealed by a picture or a mirror. Available with key operatedlock as an option or without a flange. Available for 4" or 6" walls.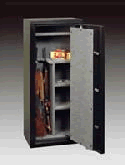 Gun Safes
GF-5517 Features:
3-Way locking bolts (5 active 1" bolts), 3-wheel lock w/ spyproof dial, Burglary proof handle, Black powder coated paint, Safe fits in standard closet, 11 gun capacity, 4 anchoring bolts to bolt safe to floor
GBF-6024 Features (picture above)
3-Way locking bolts (5 active 1¼" bolts)
U.L. Group II lock w/ spy-proof dial
Black powder coated paint
2 layers of 5/8" U.L.-rated sheetrock insulation
U.L. approved intumescent door seal tape
8 or 16 gun capacity
3-spoke handle
4 anchoring bolts to bolt safe to floor
5" thick door


Amsec Super Brute Floor Safes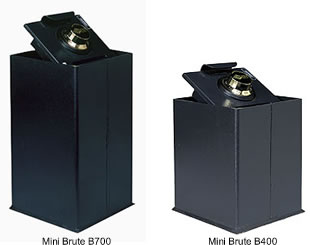 Amsec Mini Brute Floor Safes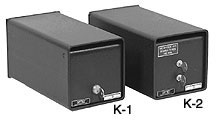 Amsec Under The Counter Safes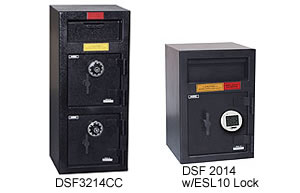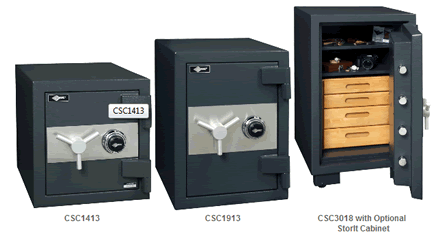 Amsec CSC Fire & Burglary Safes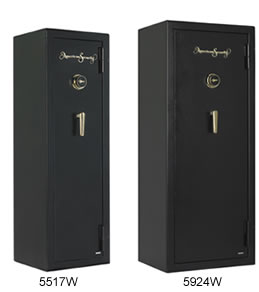 American Security LP Series Gun Safes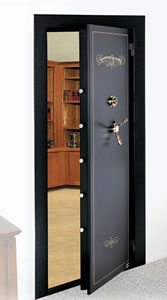 Amsec Vault Door
Special order from the factory
As time goes on, all collections grow. Not just guns, but personal heirlooms, business and family records, jewelry, photographs and works of art. Instead of buying three different safes over a lifetime, the AMSEC vault door turns your room into a security center. It is designed for easy installation that retrofits a standard 80" x 30" opening. Massive 1" door offers a defense barrier constructed of 1/8" inner and outer steel plates filled with a fire insulating material that provides a barrier against extreme heat. Select from four textured finishes. Each vault door offers elegant scrollwork and pinstripes accompanied by the renowned American Security logo. A brass spy-proof key locking dial with decorative 3-point handle is standard. With ten massive 1¼" thick bolts, you can rest assured that your valuables are protected.
Adjustable doorframe slides together to fit a wall thickness of 4-1/2" to 7-1/2"
Minimum opening required: 79-1/2"H x 29-1/2"W
Outside: 83-1/8"H x 36-1/2"W
Door opening: 77-1/2"H x 26-1/2"W
Weight: 395 lbs. - Shipping Weight 615 lbs.
Call For Pricing
Most safes are in stock or 2-3 business days Special orders from the factory are available, please allow 4-8 weeks Prices are subject to change