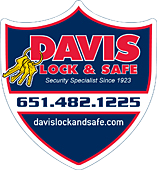 What to Do in an Emergency Lockout Situation?
Contact - Davis Lock & Safe at (651) 482-1225 we are your  Minneapolis Emergency Locksmith 
We work as repairmen of industrial locks (fine tuning of a damaged gear or replacing broken parts with those created in factories), replicate keys for people who wanted more of them available for personal use or work and consult for large security companies who design and build safes for banks and governments.
Get to Know Your Locksmith Before an Emergency!
 Davis Lock & Safe, historically known as Ray Davis and Sons and the Rice St. locksmith, has been serving the locksmith needs of Saint Paul, Minneapolis and the entire metro area since 1923. We have been a security specialist for over 90 years! We have seen the area grow since the 20s with a population of under 1 million then to over 3.6 million today. Let us establish a trusting relationship that will come in handy one day.
We invite you to visit our showroom at 2500 Cleveland Ave N. Roseville, MN,
Hours of Operation: Mon - Fri, 8 am – 5 pm
meet one of our ⭐⭐⭐⭐⭐Certified locksmiths and security specialists.
---
Locked out?
If you have been locked out, give us a call and let's see what we can help you with today.Let us be your destination for accessing your security needs.
For Quick Assistance - Call 651-482-1225